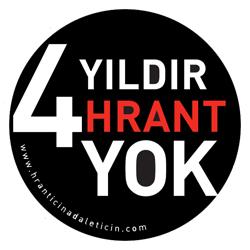 "As the fourth anniversary of Hrant Dink's murder is drawing near, just like we do each year, we are sharing with you a report that assesses the previous year and the course of the murder trial. In our previous reports, we had discussed the process having paid the way to Hrant Dink's murder as well as individuals and organisations that played a role in this process, the real perpetrators of the crime and the reasons behind the murder; we had also raised questions regarding the subject and given potential answers. As of today, in the light of the progress made at the proceedings, the content of the case files, the evidence generated from those files, inquiries and investigations conducted outside this case and the ECHR judgment our views and answers gained clarity.
"We explained in detail the striking harmony between the individuals, institutions and mechanisms mentioned in the report in the preparation and perpetration of the Dink murder, in concealing and tampering with the evidence after the murder, in burying the truth, in drawing boundaries and limits how far the trial proceedings could go and in ensuring that these boundaries are not crossed; we also explained that such a harmony corresponds to the existence of a powerful apparatus and mentality that not only legitimizes the murder but also makes impunity something ordinary.
"This report has been prepared with the aim to examine the characteristics of the aforementioned apparatus, its functions, the way it is reproduced in this case and in similar cases by specifically looking at Hrant Dink's murder case; and with the anticipation that for the sake of conducting a complete assessment it will be more appropriate as a method to start – right in the investigation phase- the examination of the facts and evidences that underpin the statements presented above.
"The report also interprets the European Court of Human Rights judgment on Hrant Dink as well as the meaning of the judgment by referring to its important headings. The report also discusses how come the ECHR judges having examined the very same evidence in the very same file arrived at a completely different conclusion than the conclusions of their colleagues in Turkey.
"We would like to share with you the attached report of 21 pages which answers questions why the state security forces who had been informed about all the details of the assassination plan did not take any action and why they failed to prevent the murder."
Attn. Fethiye Çetin
FOURTH-YEAR REPORT ON HRANT DINK'S MURDER